Vivarium & MACE 2023 on November 11 and 12!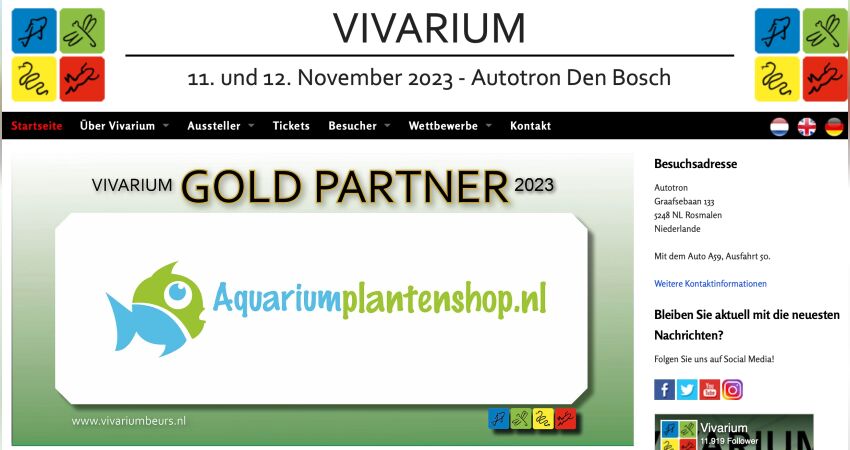 Last year marked the return of Vivarium for us after two years of COVID cancellations. And with it, the return of MACE, the Marine Aquarium Conference of Europe; the marine equivalent of Vivarium. Despite the terrible two-year hiatus, it felt like we never left. As such, our visitors, exhibitors and we as show organizers look back on one of our best editions yet.
This year Vivarium & MACE are scheduled for November 11 and 12. And of course this can only be at our permanent venue: Autotron Den Bosch (Rosmalen, between Eindhoven and Utrecht). With thousands of visitors, almost 200 exhibitors and a packed program of activities, we want to defend our title as the world's largest event for our hobby.

As before, we do this supported by the presence of the biggest brands in the aquarium industry, both for freshwater and marine aquariums. In addition, the best stores, web stores, clubs and private breeders offer a wide range of exhibitors from all over Europe.

To round out your Vivarium & MACE experience, we will again plan a program packed with lectures, contests, workshops, show tanks, quizzes and many more activities on both days. In addition to fun and learning activities for our youngest visitors, this Vivarium and MACE will once again be a great day (or even weekend) for the whole family.

Here is another video (in german) of the penultimate event
We are already looking forward to welcoming you all at Vivarium & MACE 2023!

All info is available at: https://www.vivariumbeurs.nl/de/

---
How do you like this article?