The Coral Reef Magazine - Issue 13 is published in the trade and Issue 12 is published digitally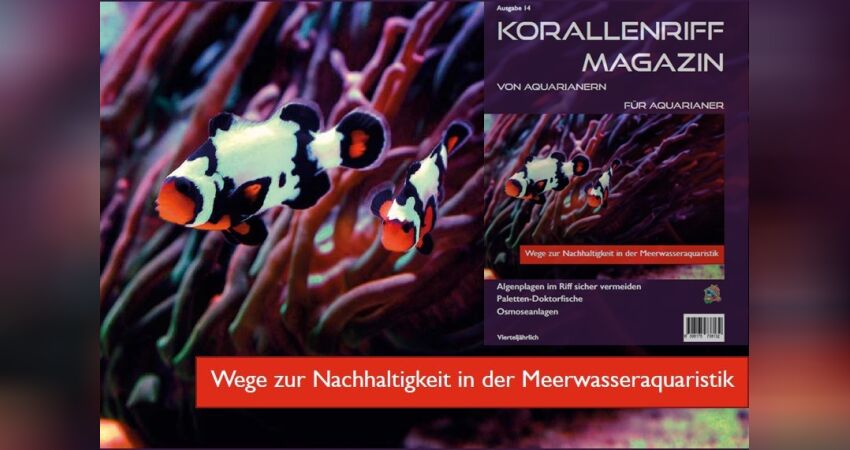 01.04.2023 The new issue 13 will be published in participating retailers - issue 12 will be published digitally! Please note an important change in the editorial. We would like to thank all the helpers, authors and editors for their once again excellent articles and contributions to the magazine. We would also like to thank the companies that advertise in the magazine, because without them the magazine would not be possible.
Due to a short holiday, we now report that the new issue number 13 (April) is already available in the trade. At the same time you can now find issue 12 in digital form here under the item Magazine.
The topics of the new issue 13:
1. AEFW Acropora Eating Flat Worm, by Peter Hilt (page 6)
In late September 2022, I noticed during my grooming routine that a few Acroporans, especially Acropora millepora, were becoming increasingly pale with small patches of no tissue.
2. Sarcophyton elegans, by Paul Gerhard Rohleder (page 10)
There is almost no marine aquarist who has not already dealt with the care of leather corals of the genus Sarcophyton or has not already cared for them.
3. Artemia breeding in the garden, by Joachim Siebert (page 18)
It is well known that Artemia are controversial as food for our marine fish and some people reject them altogether because they do not correspond to the natural food. This is true, of course, but hardly any of our scaly friends spurn artemia either.
4. The Reef within the Reef, by Tobias Neyer (page 22)
Scarily fast we went down the slope, into the blue that was turning darker metre by metre. The typhoon had already taken away visibility here underwater days before and thus robbed any chance of orientation.
5. ICP Water Analyses, by Claude Schuhmacher (page 28)
By now, every ambitious marine aquarist knows the importance of ICP laboratory analyses. In recent years, certainly hundreds of thousands of samples have been taken and analysed from tens of thousands of marine aquariums worldwide.
6. The Aqua Portrait, by Marc Lebinger (page 34)
Like many before me, I started small. Back then, as a ten-year-old, I got my first freshwater aquarium from my mother, the setup of which was based on the Amazon.
7. Industry news, (page 42)
New: Coralfood Fauna Marin, Microbe-Lift AIP-AWAY - glass rose remover, Tropic Marin Phos Start & Tropic Marin Phos Feed, Aqua Medic with the Armatus XS, Art Reef Rocks from aquariOOm.com, and info on Fisch & Reptil Ulm.
Wir wünschen Ihnen viel Spaß beim lesen
herzlichst Claudia und Robert
----------------------------------------------------------------------------------------------------------------------

Die Changes (at the cost of 1 EUR) you can read in the Editorial Issue 12

Dear readers,
For almost three years now, quarter after quarter, we have been writing about what particularly moves, delights, amazes you and us in the world of marine aquaristics.... And we are extremely proud to have published over 30.We are extremely proud to have created one of the world's largest marine magazines with over 30,000 copies per issue.

The Korallenriff-Magazin has become one of the most important sources of information for the marine hobbyist and is already an integral part of the visit to the local marine shop.
But unfortunately, the fundamental changes in the last two years have not left us unscathed. Whether for paper or printing, packaging or shipping - all costs have more than doubled since then. However, since the Korallenriff magazine is steadily growing in popularity and has more and more fans, it should of course continue to exist despite all financial adversities.

So we had to take a new path in order to be able to continue offering the magazine in the future. Some of you may have noticed that the word "free" is now missing from the cover. This is because we are taking the liberty of charging the specialist trade a fee of one euro plus VAT per magazine in future. This is mainly to absorb the greatly increased costs, to ensure the high quality of the magazine and to expand it even further.

This is then also a good opportunity to be able to obtain the magazine specifically from the specialised trade, which certainly accommodates the many requests for a subscription.

We also very much hope that the uncertainty that has arisen among hobby operators with regard to the running costs for their pools will ease somewhat
due to the electricity and gas price brake announced by the Federal Government. In the course of this, we would like to draw your attention once again to the last page of the magazine. There you can do an electricity check and as a rule the offer Constantin Kröger from Teleson makes is usually
even 10 cents below the prices of the usual consumer portals. Just give it a try - it doesn't hurt to at least get a price and make a comparison with your own provider.
Just send Constantin a Whats App with the current price and he'll make you a free offer.

A big thank you goes out to the companies advertising in the magazine as well as to the helping authors and the editorial team. Without them the whole thing would not be possible. So, if the dispatch has worked, may we now wish everyone a Merry Christmas.

Salty greetings from Erftstadt
Claudia and Robert

Edition 12 has the following content:
Page 6: The Karlsruhe Reef - Part 2, by Hannes Kirchhauser
Seven Hydrowizard pumps generate a total flow of approx. 700,000 l/h. Three large ECM 75s generate the base flow in the basin, with one of these pumps changing the direction of flow and creating turbulence by changing power every half hour.
Page 16: Energyefficiency of recirculation pumps, by Dr.-Ing. Michael Schaub

In the first part of this article in issue 11 of the Korallenriff Magazin it was shown that the power consumption of the return pump can easily vary by a factor of 20 depending on the design of an aquarium system.


Page 24: The Darwin Paradox, by Marius Schumann

It is probably clear to most of us that corals need low nutrientstoffvalues to remain colourful and vital.
Page 32: From the Socks, by Jochen Ivens

But why should you actually use a fleecefilter? What are its advantages, what are its disadvantages? And in principle - for which aquariums are fleecefilters suitable? I would like to shed light on these questions in the following and explain them in more detail.


Page 36: The Aqua Portrait, by Jan Demmerling

Our son Till actually already had his wish list for Christmas 2020 ready. In autumn, however, he remembered that he would like an aquarium. He drew a picture of it.


Page 42: Industry News- What's new in the scene

From now on, we would like to inform you not only with interesting facts about corals and fish, but also with important news from the scene.



The direct link to the previous PDF for reading: AUSGABEN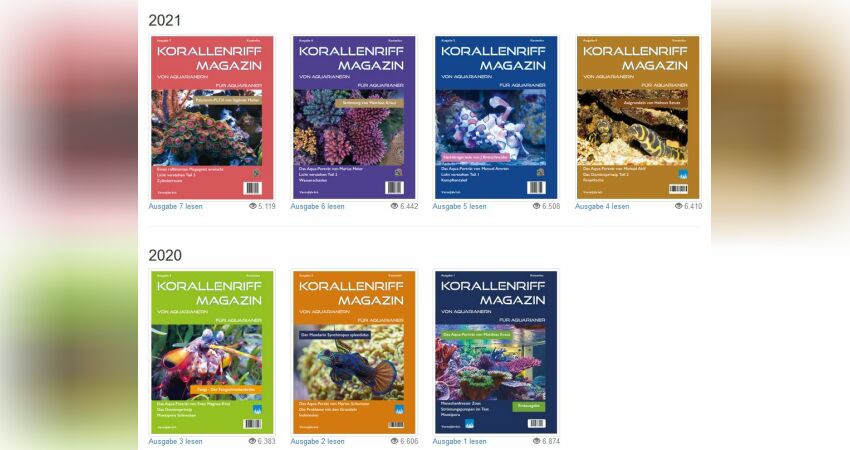 --------------------------------------------------------------------------------------------------------------------------
So ging es mal los im April 2020.

April 2020 - Introducing Korallenriff Magazin:
There would certainly be better times to introduce a marine aquaristics magazine than just the peak of the Corona virus in Germany, where many are not supposed to go out anymore to prevent further spreading. But perhaps some reading material is just what is needed. Especially now, in these difficult times, we also need positive things.
Besides the video you can find below, we would like to give you the key data on the German-language seawater magazine.


DIRECT to the PDF magazine issue 1- 11 ? Click here:
An overview of all the important things about the magazine:
Circulation of the magazine: 30.000 copies (40 pages)
Publication frequency: 1/4 yearly, starting in April 2020

Publication area: in Germany, Austria and Switzerland, as well as via online mail order by specialist dealers.
Online publication: approx. 6 - 8 weeks after publication in the specialised trade on korallenriff.de as digital PDF
The magazine is free of charge
Important: For logistical reasons we cannot offer subscriptions or direct mailing. Please contact the specialised trade ! Please inform your dealer if he does not have the magazine yet. They can then request the magazine from us free of charge.
Just write to the email address
redaktion(at)korallenriff.de
Important information for DEALERS on how to obtain the magazine.
It is best to download the form DSGVO from our server beforehand. This is because we need your written consent to store and pass on your data to the carrier. Please send this data protection form in your email to us, in which you also tell us your wish about the number of pieces. Please consider realistic numbers of pieces, in a bundle of always 40/80/120 etc.. The quantity will certainly play itself out over time. In the next quarter, the same quantity as before will be sent automatically. If you need more magazines, please inform us in writing. The same applies, of course, if you need less. Because they are too good to throw away. Otherwise our AGBs.
Now the video of the magazine:

On the following link end customers will find the digital PDF issue as well as the possibilities to order the magazine in a specialist dealer list for D-A-CH.
Best regards Claudia Krebs and Robert Baur

---
How do you like this article?